Beauty Hack: Full Brows
Anyone who knows me knows that I'm fully supportive of the bush, and no-- I'm not talking about down there. I'm talking about eyebrows.
As someone who's been rocking full brows pre-Cara Delevingne and has consequently been made fun of for not following the thin eyebrow trend, I was happy to read that
2014 was the year of bold brows
. Unfortunately, however, I'm not naturally blessed with beautifully bold brows. Instead, I've been cursed with thin eyebrows that are barely there when left standing on their own.

After years of experimenting with different products, remedies, and tutorials I've finally found a tried and true method for achieving the perfect bold brow. If you haven't been naturally bestowed with bushy brows, don't fret. Here's my foolproof guide to faking eyebrows that even Cara would be jealous of.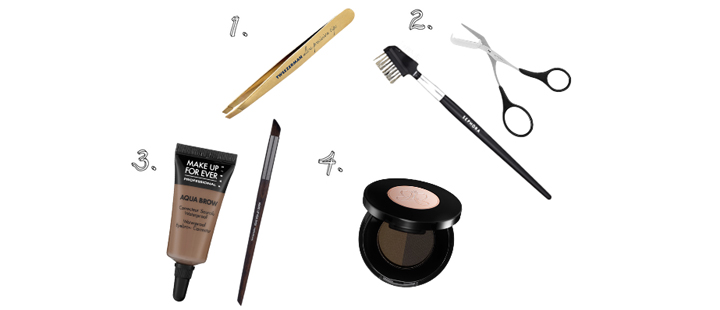 1. Arch Those Brows!
This one may seem counterintuitive; I mean why pluck your eyebrows if you want them to be fuller? Pluck them because the trick to any good brow is to find your perfect eyebrow shape. Finding your perfect shape helps frame your face, and is the key to creating a good foundation for building a fuller brow.
Try shaping them yourself with these ultra-precise
Tweezerman tweezers
, or get them done professionally if this is your first time. Not sure how to pluck them yourself? Check out this how-to guide for shaping your eyebrows on
Elle
.
2. Trim, Trim, Trim
Just as you should get your split ends trimmed to maintain healthy hair, you should trim your eyebrows to maintain their shape and length. Using the proper tool to trim these hairs is essential, otherwise you might end up with irreparably patchy eyebrows. I recommend investing in an eyebrow brush and scissor, or an all in one tool like
this one
from the Sephora collection.
Using a comb and scissors will help you trim overgrown hairs, maintain your eyebrow shape, and keep your brows looking sharp. Again, having a good foundation to build your brows on is key.
3. Make Up For Ever's Aqua Brow Gel
This brings me to my next step. As you know, the cosmetics industry has a plethora of products for your eyebrows. From pencils and powders to gels and creams, its tricky to navigate the product selection. I've tried nearly everything to fill in my sparse brows, and after being dissatisfied with these products for years I've finally found the one.
My good friend, who also happens to be a certified makeup artist, introduced me to
Make Up For Ever's Aqua Brow
gel and I can honestly say that my brows have never been the same since. This gel is like magic in a tube. Just squeeze a small amount onto an angled brush, and start filling them in. You'll be barely there to bold and thick in no time.
4. Anastasia Brow Powder
This is another product that I swear by. Before I discovered Aqua Brow,
this brow powder
by Anastasia Beverly Hills was the only eyebrow product that I liked and committed to. Now, I use them together for the ultimate bold brow. Fill in your brows with Aqua Brow, and then use an angled brush to set and sharpen with the powder. Too much of a good thing doesn't apply to this relationship.
The trick to faking a fuller brow is to invest in the right tools and products. As with most things beauty related, when it comes to eyebrows you get what you pay for- so don't skimp! Eyebrows frame your entire face, so take time to find the right products and perfect your eyebrow routine. Trust me, your face will thank you.
Credits:
Polyvore